KGS Keller Geräte & Service GmbH
Machine Factory and Service Provider for the Special Heavy Construction Industry
KGS Keller Geräte & Service GmbH is the partner for all enterprises of the Keller Group worldwide. We provide development, design, engineering, production and repair of special machinery. This equipment is used for ground improvement solutions for customers' specialised geotechnical requirements.
KGS is the owner of big machinery (vibrocats, drilling rigs, cranes, hydraulic units, generators, mixing units, containers, etc.) as well as Keller specialties (vibrators, control units, Soilcrete®-monitors, drilling heads, etc.) – partially patent-registered – and rents them worldwide.
Furthermore KGS delivers all necessary spare parts for this machinery and undertakes repair, maintenance and service of the Keller equipment worldwide.
Other services include consultation and training incorporating new developments in safety, design and innovation thus continuing our goal of technical excellence.
KGS' health & safety policy is certified in accordance with DIN ISO 45001:2018.
Our team members are highly qualified specialists in their fields of development, design, production, service, hydraulics, support, training, instrumentation of machinery and controls.
KGS Keller Geräte & Service GmbH has been accredited to educate industrial mechanics, mechatronics technicians for construction machinery, electronic technicians, draftsmen and industrial clerks.
Company presentation: We are KGS!
Development
In our Design Department, we take on board the feedback and specifications coming from our construction sector colleagues in our design and development activities. This means that the process know-how is directly incorporated into our new products for geotechnical engineering.
Our Design Department is equipped with the latest design software tools. Our team is multi-disciplined to meet the challenging demands for machine construction incorporating hydraulics, electronics and instrumentation.
Manufacturing
KGS is an independent Business Unit within the KELLER Group. Formerly known as the equipment department of Keller Grundbau GmbH in Renchen, KGS established end of 2007 as limited liability company named KGS Keller Geräte & Service GmbH.
In Renchen you will find our operational headquarters as well as our shop floors.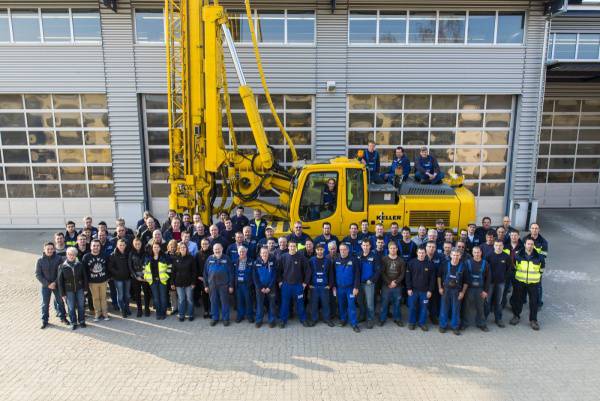 Staff
In the end of 2021 we have a team of approximately 130 employees.
The majority of employees are based at our facility in Renchen, with some working in our headquarters Frankfurt-Offenbach.
                                   Company history
Come with us on a journey through time: 160 years of experience & innovation
160th company anniversary; development of new Keller drilling rig type KB8

Training concept modernisation for apprentices and employees

Launch of new Keller vibrocat type VC05-2; corporate video production "We are KGS"

Innovation of Keller drilling rig type KB6-2; inauguration of a new, additional shop floor; room capacity expansion and staff increase in the electrical engineering department and the customer service; introduction of "skype for business"

Introduction of new Keller drilling rig type KB0 Future trend software M5 towards KIM = Keller Information Manager

Introduction of new Keller drilling rig type KB0 Future trend software M5 towards KIM = Keller Information Manager

Introduction of FMS = Fixed Mast System for vibrocats

Introduction of new Keller drilling rig type KB7

Introduction of new Keller vibrocat type VC07

Quality Production Manager, digital networking, analysis and visualisation between construction machinery and online clients (iPad)

Keller new drilling rig type KB1-2

Warehouse digitisation; merchandise management automation by scanning

Keller new drilling rig type KB6

SAP introduction; introduction of the new service tool system M5 for records and visualisation on construction equipment

Foundation of KGS Keller Geräte & Service GmbH as own company (formerly part of Keller Grundbau GmbH); Vibrex-piling TSM – Tubular wet Soil Mixing – new procedure Triple-shaft wet Deep Soil Mixing, production of sealing walls with the triple mixing tool Shuttle built and delivered for the Dry DSM procedure

Large piling contract in KSA (65 Mio€) Large S700 Vibro Compaction job on Palm Deira, UAE

Successful execution of first sites by geothermal piles Diaphragm walls executed in Poland

Soilcrete®-sealing wall below the Railway Station of Amsterdam First application of S700 vibrator for vibro compaction

Double-shaft wet deep mixing Execution of sealing wall by Deep Soil Mixing for securing the construction pit in Warnemünde

Carried out first large application of Compaction Grouting for reinstatement and ground improvement

First use of the lime cement column (Dry mixing) technique in Malaysia and the United Kingdom Soilcrete®-Slabs up to 32 m deep successfully carried out First use of Deep Soil Mixing for highway bridges in Poland

Successful construction of a water tight excavation slab by means of the Soilcrete®-DS-technique using columns up to 3.5 m diameter

Introduction of improved Jet-grouting processes (Soilcrete®-TS and Soilcrete®-DS) 2000

Compaction Grouting has been introduced on construction sites in Germany

Development of new vibrocat Several contracts for sealing of large construction pits using Soilcrete® (>40 Tm²)

1.1 mio m vibro replacement and 5.5 mio m³ sand compaction

Introduction of L-Vibrator

Introduction of service tool system M4 to record tasks on construction equipment

Large vibro contracts in Asia (Malaysia 900 000 m) (until 1996)

First application of injection container with control and 3D CAD-visualisation of the injection and deformation data by means of the Keller program Grout Control. Project: New St. Clair River Rail Tunnel, Canada

First application of the injection data file for injection procedure Soilfrac

Completion of drilling and grouting works on Mosul-Dam l (Iraq). 330 mio DM sales (Joint Venture)

First contract of Soilfrac®-Injection in Germany (Compensation Grouting)

Introduction of S–Vibrator

First Soilcrete®-Contract in Germany (Jet Grouting)

First Injected vibro columns und Concreted vibro columns

Development of a new generation of deep vibrators and vibrocats

Patent application for bottom feed vibrator

First contract using Vibro Replacement technique after development of the torpedo vibrator

Vibro compaction trials for the planned Aswan-Dam in Egypt

World record in deep vibratory compaction: 35 m, reached in Berlin

First practical application of Keller´s deep vibrator

Patent registered for soil compaction by depth vibrators

Major ground-water lowering near Frankfurt, Main-river, and at harbor facility, North Sea

First order for ground-water lowering

Foundation of Company Johann Keller in Renchen